Welcome to Ironwood Golf Course!
Ironwood Golf Course has an outstanding layout sculptured around century-old pines and shimmering lakes. The contoured fairways and strategically placed bunkers offer every level of golfer a tremendous opportunity to test yours skills. The course is owned by the City of Gainesville and operated by the Department of Parks, Recreation and Cultural Affairs. For more information call 352-393-8500. 2100 NE 39th Ave., Gainesville, FL 32609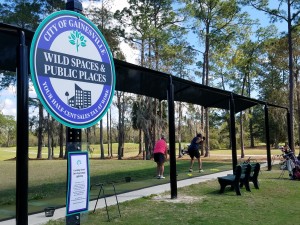 The City of Gainesville's Wild Spaces & Public Places Department in conjunction with the Parks, Recreation and Cultural Affairs Department will begin work on the Ironwood driving range the week of March 4, with completion anticipated in April.  On occasion, the range will be unavailable while work is being performed. The golf course will not be affected. 
The lighting addition on the driving range will allow park patrons to enjoy extended hours during the winter months.  The work is being facilitated by Musco Sports Lighting, LLC.  For questions, please contact Betsy Waite, Director of Wild Spaces & Public Places, at 352-393-8187 or WildSpacesPublicPlaces@cityofgainesville.org.
The Wild Spaces & Public Places half-cent sales tax, collected from January 2017 to December 2024, will continue to create, improve and maintain parks and recreational facilities, and acquire and improve environmentally-sensitive lands. To sign up for updates, please visit www.WildSpacesPublicPlacesGNV.org.

JUNIOR GOLF CAMP 2019 (Registration begins April 1st!)
Session #1 June 25th – June 28th 9:00 a.m. – 3:30 p.m. 
Session #2 July 16th – July 19th 9:00 a.m. – 3:30 p.m.
Session #3 August 6th – August 9th 9:00 a.m. – 3:30 p.m.

THURSDAY NIGHT LEAGUE WILL BE BACK MARCH 28TH!!!